Having time on my hands I joined several mountaineering clubs in Macedonia and the mountaineering club'"Transverzalec" invited me for a hike. We were going to go for a "not very challenging" 25km (15 mile) hike with about 700 meters ascent and descent and there was a possibility of rain in the afternoon. OK, I know I can do that, the days are long and although it is still early summer, the weather is guaranteed. Right?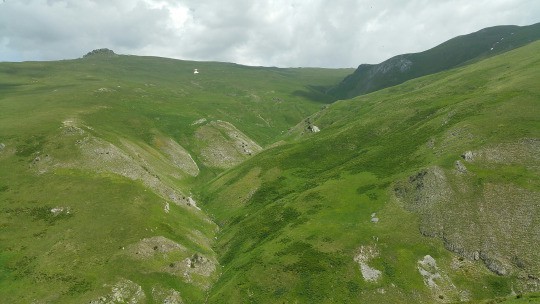 Our destination was the area between mountains Korab and Shara, near the National Park Mavrovo which is a fair distance from the capital Skopje so it was a 6 o'clock start on a clear, bright morning. This side of the mountain range has has a few peaks above 2000 meters and it is full of meadows and pastures.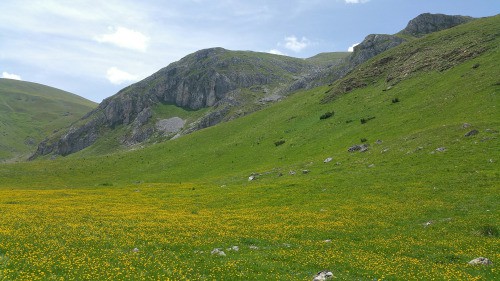 True to the description we started the walk gradually ascending and walking through lovely meadows, full of flowers and plants. The weather was gorgeous, a perfect summer day, warm, but we started at almost 1400 meters above sea level, so the heat didn't bother us. We were following a river, called Ajina River. We had lunch near a small farm, sitting in a lovely field. There was a large number of mountaineers because all the mountaineering clubs from Macedonia had invited their members to join this annual hike which was organised for the 22nd time.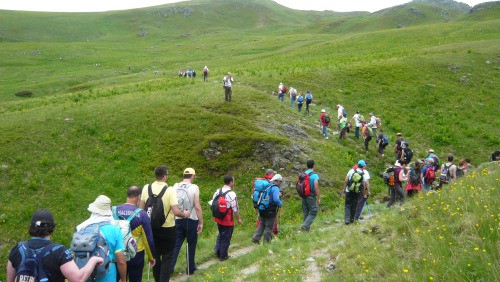 After lunch we headed for peak which at 2060 meters height was the highest point and then, I though, we are roughly half way, we just have to descent. Yes, so far I was getting what I subscribed to, a hike with stunning views, fairly long but extremely pleasant.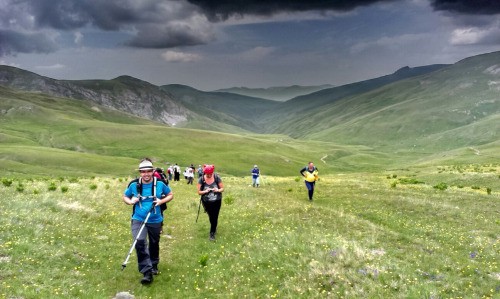 Once we started coming down things changed rapidly. The blue sky disappeared and dark clouds descended on us. People started walking faster, some even started running downhill. Macedonians don't like walking in rain and given that they have 265 sunny days a year, I take their point, there is no need to walk in the rain. I put on my waterproofs and covered my rucksack and thought, a bit of rain hasn't hurt anyone. I thought that running away from a bit of drizzle is overdramatic, and kept on walking and taking photos of the changing scenery.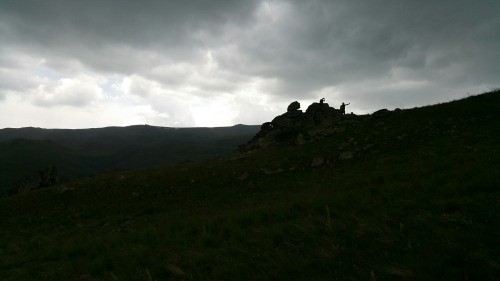 Who could have predicted that within half an hour I would be in the middle of a hail storm with 12 km to walk down hill and then uphill and then downhill and uphill again and again, through pouring, monsoon like rain. And just as I thought that the rain was over another hail storm came and then some more rain. I do love thunderstorms and once you are in it you just have to "to go with the flow", sometimes literally.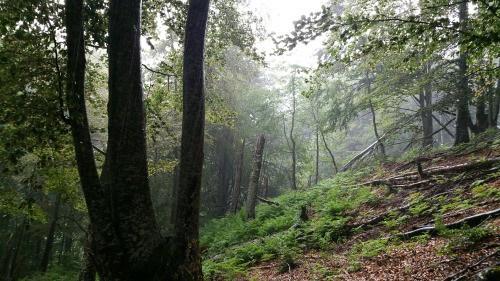 That is the last thing I could record with my phone, it decided to shut down because the battery was soaked. You will just have to take my word for it, the rest of the way, until we reached the first village of Gorno Jelovce, it was very slippery and muddy as it continued pouring. Water was coming hard through the trees, it was gushing downhill as the streams were turning into small fast rivers.
But there is always sunshine after the rain. Glorious sunshine which helped us dry fast.
The rest of it was a walk downhill, which would have been very pleasant in normal circumstances if one didn't have to walk in wet shoes. I do love walking in a mountain in sunshine after rain. It is as if all the plants are expressing gratitude for the water by releasing the loveliest smells. And Shara is known to have some of the most aromatic mountain plants used for making tea.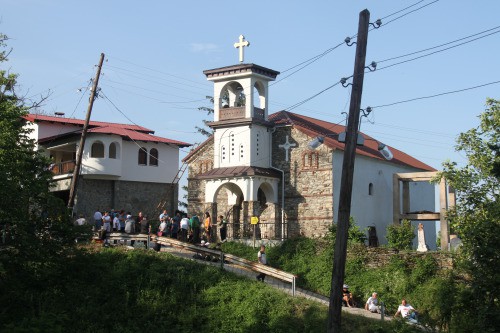 I was glad to see the church where we were supposed to have dinner. The rakija (local brandy made of grapes) and the bean soup tasted so good and it was so nice to be in the kitchen full of hospitable people.
They were all mountaineers from the Bistra Mountaineering Club, some of them founders of the Club and although they hadn't been on this walk, they knew what we went through that day and they appreciated our efforts to follow their footsteps.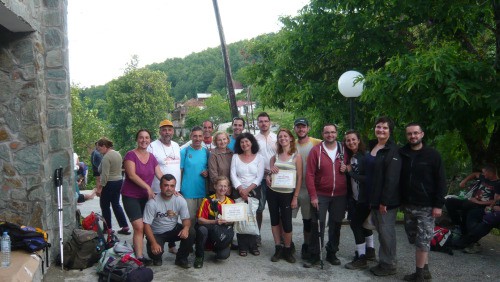 I appreciate that they had set the path.
Превземено од: Hiking the Balkans